El Ashaa'—The Banquet

Pascal Hachem

The «Banquet» took place at Saha Hashmia, in Downtown, next to the Roman Theatre; a tourist place with poor neighbourhood in close proximity.
With this intervention he questioned the act of being generous as well as the act of receiving donations.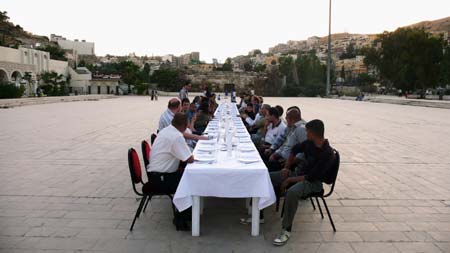 The table was set for a perfect classical banquet, reminiscent of the «Last Super» and the Iftar-tables during Ramadan (first meal at sunset after fasting during the day. Charity organizations and wealthy people offer food to the needy), welcoming people who just happened to be around, but this time, no food or drinks were served. Instead, the artist was going around the table, writing «laws» on people's plates – that was, what he offered. These «laws» were directly linked with a certain mind frame, with daily routine, all context sensitive: e.g.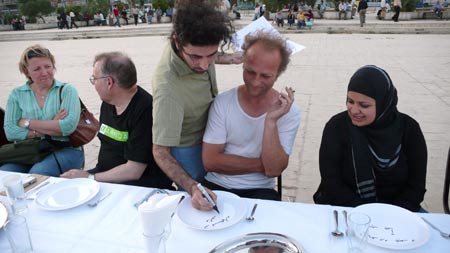 — do not listen to the Lebanese people, listen to Fairuz
— do not put the portrait of Che Guevara everywhere
— watching football for 90 minutes is very good
— stillness / laziness is very good
— do not show your feelings, keep them to yourself
— live from laws
— appreciate what you are being served
— do not always say NO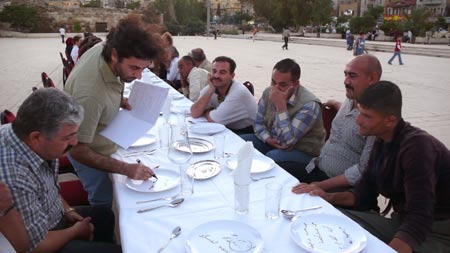 At the end Pascal Hachem was distributing local bread, on which he stamped the words:
«Aish il Qanun»– the bread of the law
playing with the word Aish – which means in Arabic «bread» and also «life», as for: «living the law»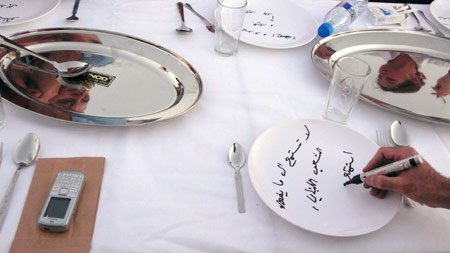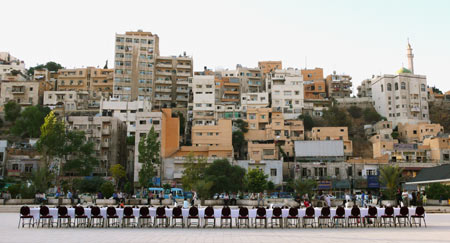 All photographies by «No Condition is Permanent», Amman 2007
[
top
]
FEATURED THEME ON CITY SHARING
MORE CONTRIBUTIONS BY THE FOLLOWING
A
B
C
D
E
F
G
H
I
K
L
M
N
• No Condition is Permanent •
O
P
R
S
T
U
V
W
Z