Treibsand
Treibsand DVD Magazine on contemporary art, looks at current trends in international art. Each volume explores essential questions and concerns of a specific region or country and each is co-curated by a different artist. The DVD not only presents works of art, but also statements by those involved in the world of arts and culture, reflecting important aspects of society and giving an insight into art and its discourses.

TREIBSAND VOL. 01 sheds light on contemporary and emerging art in Tehran, concentrating predominantly on an analytical stance in times of waiting. Waiting for the future may be expressed as yearning or depression, or it may appear as a long, protracted period in which past and present are analysed in depth from a personal and post-colonialist viewpoint. The concept has been drawn up in close collaboration with Parastou Forouhar (Frankfurt am Main/Tehran).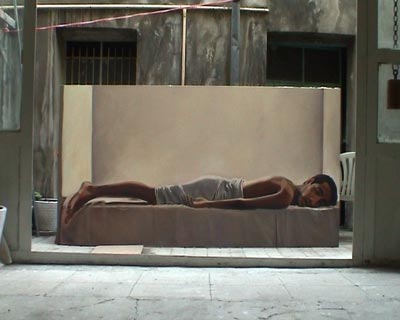 Ahmad Morshedloo, «Untitled», documentation on paintings, 2006.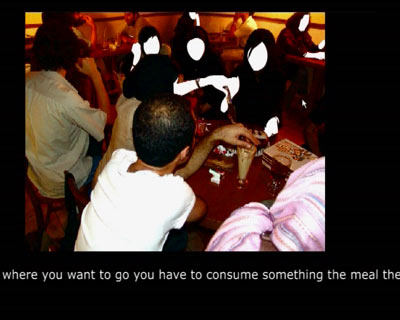 Amirali Ghasemi, «Coffee Shop Ladies»,
documentation of interacive piece, 2005-07.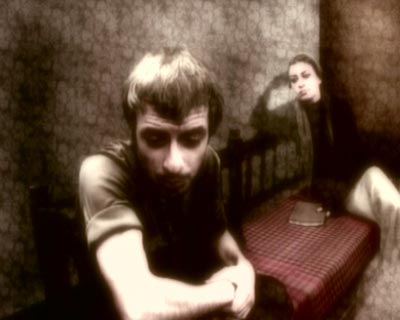 Samira Esandarfar, «Monologue Under White Light», video, 2005.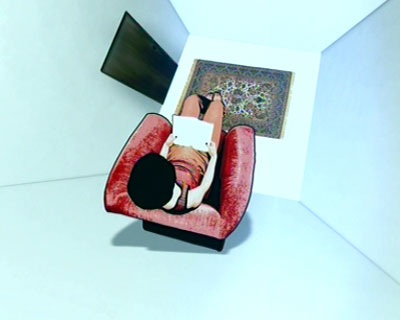 Hamed Sahihi, «The Room», video, 2006.
TREIBSAND VOL. 01, Artists: Iman Afsarian, Nazgol Ansarinia, Mehraneh Atashi, Mahmoud Bakhshi-Moakhar, Shahrzad Darafsheh, Samira Eskandarfar, Farhad Fozouni, Nina Ghaffari, Amirali Ghasemi, Barbad Golshiri, Arash Hanaei, Ghazaleh Hedayat, Elahe Heidari, Behnam Kamrani, Simin Keramati, Khosro Khosravi/Farid Jafari, Mehran Mohajer, Ahmad Morshedlou, Neda Razavipour /Shahab Fotouhi, Hamed Sahihi, Rozita Sharaf Jahan, Jinoos Taghizadeh, Sadegh Tirafkan.

TREIBSAND VOL. 01, Statements: Iman Afsarian, artist and editor; Haleh Anvari, artist and journalist; Khosrow Hassanzadeh, artist; Sohrab Mahdavi, editor of TehranAvenue.com; Ruyin Pakbaz, art and art history professor; Alireza Sami Azar, curator; Soghra Zare Anaghezi, artist.

All pictures © by artists and www.treibsand.ch, Zurich 2007
[
top
]
Treibsand
Treibsand
RELATED WEB SITE
→
www.treibsand.ch
ARCHIPELAGO OF BODY IN SPACE
FEATURED THEME ON CITY SHARING
MORE CONTRIBUTIONS BY THE FOLLOWING
A
B
C
D
E
F
G
H
I
K
L
M
N
O
P
R
S
T
• Treibsand •
U
V
W
Z